The Double R Guest Ranch offers bird hunters the chance to hunt grouse, pheasant, prairie chicken, ducks and geese in the Nebraska Sandhills.
Upland Bird Hunting
Sharp-tail Grouse, Ring-necked Pheasant, Prairie Chicken, and Mourning Dove are all here and are doing well. The grouse and prairie chicken love the grassy hills and the many shelter belt areas on this Nebraska Ranch.
The hunters enjoy the crisp walks through the hills as they pursue these birds. The Ring-neck pheasant is found in the shelter belts, the hills and in the wet land meadows.
They all seem to thrive on a variety of seeds, bugs and the grains leftover in the cattle bunks.
The Mourning Dove hover around the stock tanks. The more patient hunter will have many shooting opportunities during the day and early evening. It is a pleasant way to spend some time observing the natural order of the wild birds.
Waterfowl Hunting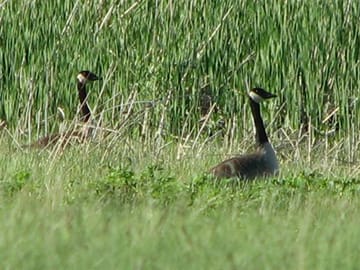 At the Nebraska Double R Guest Ranch, you will be hunting the ducks and geese in Zone 2 of the High Plains, North Central Unit in Cherry County. There are three quite large spring-fed lakes on the Nebraska Double R Guest Ranch.
You will find specific information about the waterfowl hunting in the Guide from the Nebraska Game and Parks Commission. You can get the Upland Game and Waterfowl Guides from the Nebraska Game & Parks website or from the ranch when you arrive in the fall.
Bird Hunting Prices
We offer daily and multi-day packages. Please call for current rates.
Hunt Lodging
Country Cabin: Sleeps 7 with a queen, full, twin, and full sleeper sofa.
The Country Cabin is fully furnished. There is a kitchenette that is furnished with everything you might need to cook your meals. You just need to bring the food. There is a gas grill outside to use if weather permits. All of the bedding and towels are furnished.
---
Bird Hunt Guidelines
The hunt prices include lodging, but no meals. The Country Cabin is completely furnished. Hunters will be driven to some of the boundaries at check-in time by the landowner.
Each hunter will be given a plat map that they need to carry on their person at all times. You will be granted hunting access to only privately owned land of the owner hereof. Dogs are not allowed in the cabins and must be kenneled or supervised at all times.
Hunters will be held responsible for any damages done by the hunters or their animals.