The Double R Guest Ranch offers some of the finest deer hunting in the Sand Hills.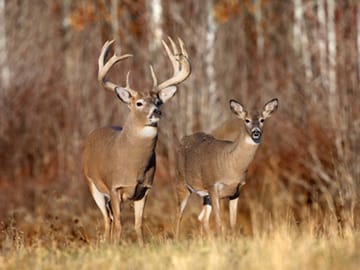 We are located in the middle-interior of the vast, sparsely-populated Sand Hills. The region is teeming with wildlife of a wide variety.
White-tail and Mule Deer Abound! Many deer are here year-round and don't seem discouraged by the cattle grazing close by. Many trophy deer are taken each hunting season directly from the Double R Guest Ranch's lands be it rifle, muzzleloader, or bow and arrow.
"The Sand Hills Management Unit has the highest percentage of mature, trophy-Whitetail Deer, and it should, it has been managed as a Trophy Unit since 1991."

Program Manager
Big Game Program
Nebraska Game and Parks Commission's
Deer Hunting Prices
We offer rifle, muzzleloader, and archery deer hunting packages. Please call for current rates.
Hunt Package for deer hunting is 4 day/5 nights
All hunt packages have a maximum of 4 hunters per cabin. All hunters must sign the Waivers of Liability, and Owner's Rules for the Hunt prior to hunting.
Meals are not included, but the cabins have full cooking facilities with all necessary utensils, dishes, and appliances furnished, including a gas grill if needed. All Linens and bedding are also supplied.
Cabin Lodging
We have a cabin furnished with your comfort in mind as that welcomes you home after a day afield. The cabin has a have full kitchenette and is fully outfitted.
To cook, all you need to bring is your food. All units have room to relax, and there are games and reading materials for leisure hours and TV to keep you informed when necessary.
Rates and Reservations
Opening Week: 4 day/5 night hunt is Friday, Saturday, Sunday, Monday, and Tuesday, Check-in on Day one at any time after lunch; check-out is by noon on Day 6.
When you arrive you will need to come to the ranch house and get your paperwork signed and the balance of your fees paid before any hunting is allowed.
When that is done you will be driven to several of the boundary areas of the ranch to familiarize you with the borders. You will each have a plat map to be carried with you at all times when you are hunting.
---
These Nebraska Deer Hunters will find that this high country terrain is made for hiking and ATV travel when drive you must! The hills are high, rugged, sandy, grass-covered dunes just made for climbing as you Spot and Stalk.
The heavily grassed, low-land marshes, on this Nebraska Ranch have three spring-fed lakes which attract additional wild life that adds to the adventurous challenge of the hunt.
You can expect to find a very good population of deer. We are happy to have the hunters that help with population control when we hear that they have fulfilled their hunting permits with the deer of their dreams.
In general no guide is necessary, but if you wish to obtain a guide, names and contact information for local guides can hopefully be located upon request. Obtaining, scheduling, and payment of the Guide would be the sole responsibility of the hunter.
Deer hunters should have no difficulty fulfilling their permits! Our deer hunts are all no-guarantee deer hunts and no refunds are authorized.
However, in the event that you will be unable to fulfill your hunt reservation in the fall, you can use your prior posted deposit to re-schedule a deer hunt for the next season, if a reservation is available, without posting a new deposit. Any price increases would be your obligation when you check-in that next fall.
The Nebraska deer hunt fees include the right to hunt, the in-season waterfowl, upland birds, coyote (no permit needed), and small game with the proper hunting permits and guns.
Fishing on-site is available at the private lake with the small boat, or if the lake is safely frozen, you can ice fish . All can be done during your 4 day hunt without any additional charges.
The Nebraska Hunt Deer Season is set by the Nebraska Game and Parks Commission so the Opening Day at the Double R Guest Ranch varies from year to year. You can purchase your deer permits for the Sand Hills Area, which is our area at the ranch, over the internet at www.outdoornebraska.org.
This site has the complete Big Game Guide in its pages. You can purchase your game permit and learn more about deer hunting and the seasons in Nebraska from the Guide.
You can contact the Game and Parks Commission at 2200 N. 33rd St., Lincoln, NE 68503, or call (402) 471-0641.